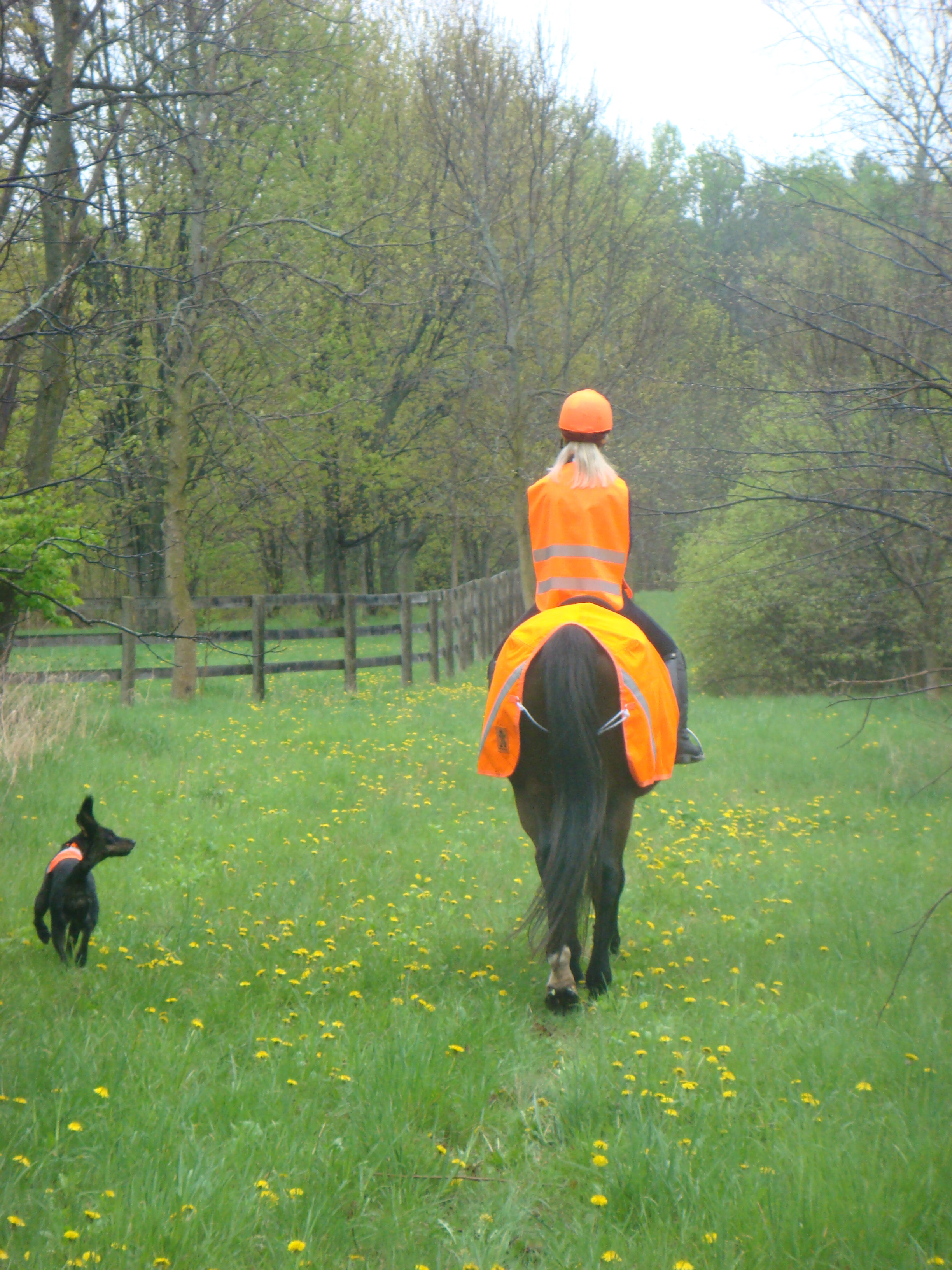 There are some nice places to ride around the stables, but they are lined up next to roads and I always worry about traffic, as little as there is, but I shall explain.
Many cyclists go up and down the roads around the stables (but this is something quite normal for Austin, just ask Lance Armstrong!) so people are on the lookout for them. But even I have had the occasions where I will be driving to the stables and not notice that there is a horse and rider in the grassy area alongside the road until I'm next to them! So I think to myself that if
I
didn't notice them, would anyone notice me and Greta? Perhaps, because Greta is white and I usually wear light colored breeches and polos. But perhaps not. So it's always been a chance I am not willing to take.
I saw this company's ad in one of my horsey magazines. They're called
Don't Shoot Me
and initially I thought, "I don't ride in forests or hunting areas, so this doesn't apply to me." And then I realized, so
smart
of me, that this International Orange color is the same color road workers wear and Lord knows I see them! So this company is genius! Int. Orange saddle pads, quarter sheets, fly veils, rider vests, helmet covers, even stuff for doggie!
They're based in Canada, so everything on the site is in Canadian dollars, so I don't know if they ship to the U.S. BIG bummer if they don't, because I would have no problem saving up money for this stuff. Contrary to Greta's normal "It moved so it's going to eat me so I must run away" attitude, she really does enjoy trail rides. She always takes over and tries to outwalk the other horse to the front of the group. The last trail ride we went on in late December of 2009, she was the only horse that didn't spook! And I like to trail ride, because it's something new for the both of us, and it's good for Greta's fitness and mine too. But since they widened the main road riders walked along, then I've been cautious. But something to wear that's highly visible, plus a buddy, plus some good old fashioned common sense and precautions, would make me feel much better.
Such a good idea!